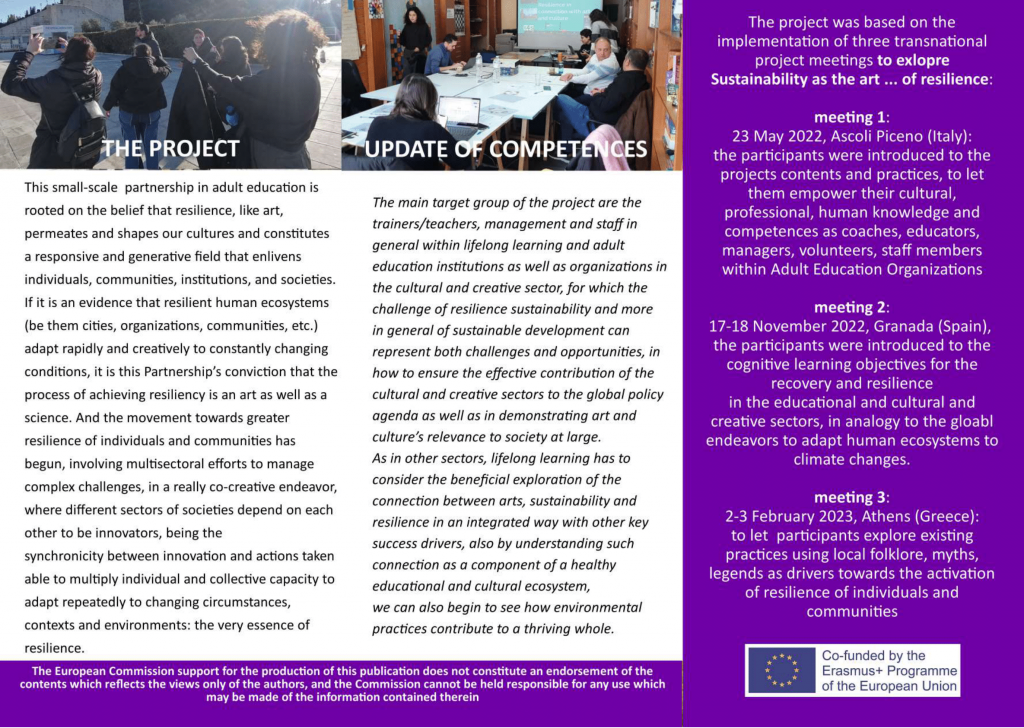 "Sustainability as the art … of resilience" 2021-1-IT02-KA210-ADU-000034020.
The project refers to activation and accession of resilience literacy as the capacity of people to creatively adapt, using art and culture contents and toolset as an essential dimension, referring to art and culture both in their universal sense, as well as to arts-based culture public perception and experience are shaped.
The project partners from Italy, Spain, North Macedonia, Portugal, Greece and Romania met to exchange good practices based upon the connection between art and sustainability towards individual and social resilience, helping the design and introduction of innovative pedagogies, to extend and develop the competences of educators and other professionals who support adult learners to face unprecedented risks, and societal challenges, thus contributing to the recovery resilience of the educational, cultural and creative sectors.
More information about the project activities can be found on the project website: www.tenforsustainability.eu/SustainArt.html

Funded by the European Union. Views and opinions expressed are however those of the author(s) only and do not necessarily reflect those of the European Union or the European Education and Culture Executive Agency (EACEA). Neither the European Union nor EACEA can be held responsible for them.